We are excited to announce Alpaca Adventure Tours will be offering their service for the first time this year at the Bicycle Ride Across Tennessee (BRAT)!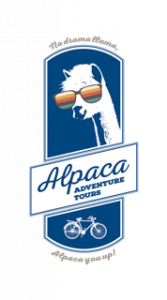 We take all the stress out of planning a cycling trip. Register with us and we handle all the nitty-gritty details, allowing you to relax and enjoy the ride! Meet new friends and have an adventure of a lifetime! We will be offering our full service camping package which includes the following: 
Price:
Single Occupancy: $500 (1 Twin Mattress Included)

Optional Queen Mattress Surcharge +25

Double Occupancy: $600 (2 Twin Mattress or 1 Queen)
Open Camping with amenities: $250/person – You use all your own equipment and set yourself up but you have access to all the Alpaca amenities (luggage transfer, snacks, drinks, shade, charging station, bicycle corral etc.)
What's Included:
Marmot Limestone 6 man tent with setup and tear down
Inflated Air Mattress
Luggage Transportation and delivery to tent
Daily Disposable Bath Towel
Lawn Chair
Shaded Area
Snacks
Soft Drinks / Water
No Drama Llama Cafe – Morning Coffee and Hot Tea
Communal Cooler with Ice (BYOB)
Secure Charging Station for electronics – Phones, Laptops, Accessories etc.
Alpaca Bike Corral
Air Pumps
Bicycle Work Stand
Music in communal area
Lawn Games, board games, card games
Mechanic for minor repairs and adjustments
Other Services:
Shuttle to and from airport
Shuttle transfer between parks
Daily cotton towel and washcloth
If you are going to be shipping your bicycle and would like Alpaca Adventure Tours to transport and assemble your bicycle, we recommend using Air Caddy (www.AirCaddy.com). You can ship your bicycle to Alpaca Adventure Tours, we will receive and assemble your bicycle, then transport it to the start of the ride. At the end of the ride, we will disassemble, repack and ship the bicycle back to you. The cost of the box and shipping are not included in the service fee.
Air Caddy Bike Box and Ship Price:
Round Trip: $60
One Way: $40
Standard Hard Case Box and Ship Price:
Round Trip: $150
One Way: $75